I had had a Santee nail polish sitting around for a while but the color is so bright that I did not know how to use it. To start off, the name of the polish is Pink Flower and it is a neon pink. The polish itself has a nice formula and I only used one coat to achieve full coverage. I hope you like it!
He tenido un esmalte Santee por algun tiempo pero el color es tan fuerte que no sabía como usarlo. Para empezar, el esmalte se llama Pink Flower y es un rosado neon. El esmalte en sí tiene una buena consistencia y usé nada más una capa para lograr una cobertura completa. Espero les guste.
Apply one coat of a light pink polish (Glass Pink by Sinful Colors).
Aplica una capa de rosado pálido (Glass Pink de Sinful Colors).
Do a side swipe with a neon pink (Flower Pink by Santee).
Cubre la mitad de la uña por un lado con un rosado neon (Flower Pink de Santee).
Do the other side with black (Black Creme by WnW).
Haz el otro lado con negro (Black Creme de WnW).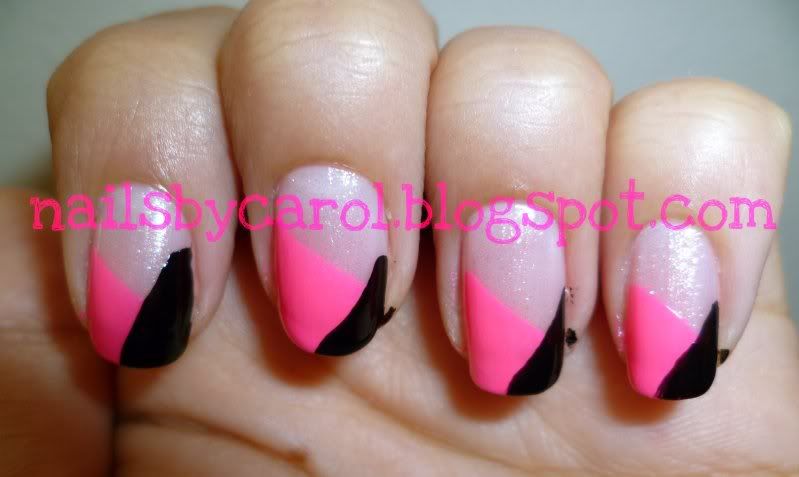 Add dots and rhinestones. Doesn't it look neat on short nails? Imagine it on longer nails!
Agrega puntos y piedritas. No se ve lindo en uñas cortas? Imagínalo en uñas un poco más largas!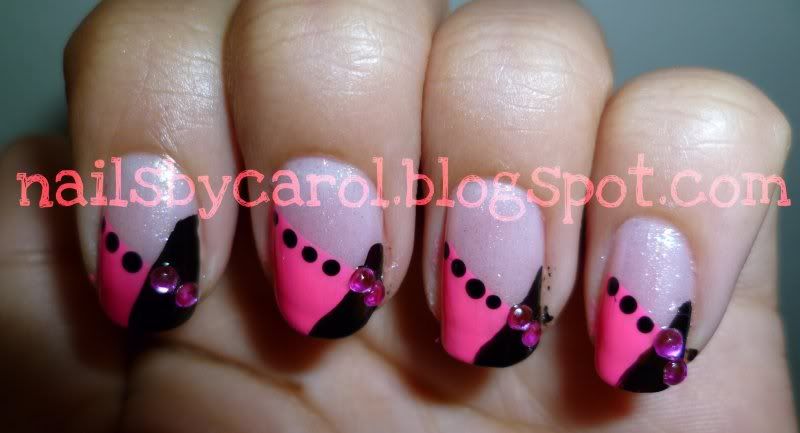 Carol