Hello!
I attempted a half moon manicure for the first time today. I really like the outcome and I hope you do too.
I used hole reinforcements for paper as stencils (I bought them at a local discount store). The polishes I used are Figure of Art by Finger Paints and Lincoln Center by NYC. For embellishments I used a 2mm yellow rhinestone and copper beads from Michaels. The video tutorial will be at the end of this post.
Hola! Éste es mi primer intento de unas uñas de media luna. Me gustó mucho el resultado y espero que a ti también te guste. Usé protectores de hojas de papel como guías (los compré en una tienda local). Los esmaltes que usé son Figure of Art de Finger Paints y Lincoln Center de NYC. Para adornar usé una piedrita de 2mm en color amarillo y microcuencas cobrizas de Michaels. El video de éste tutorial estará al final de ésta entrada.
xoxo,
Carol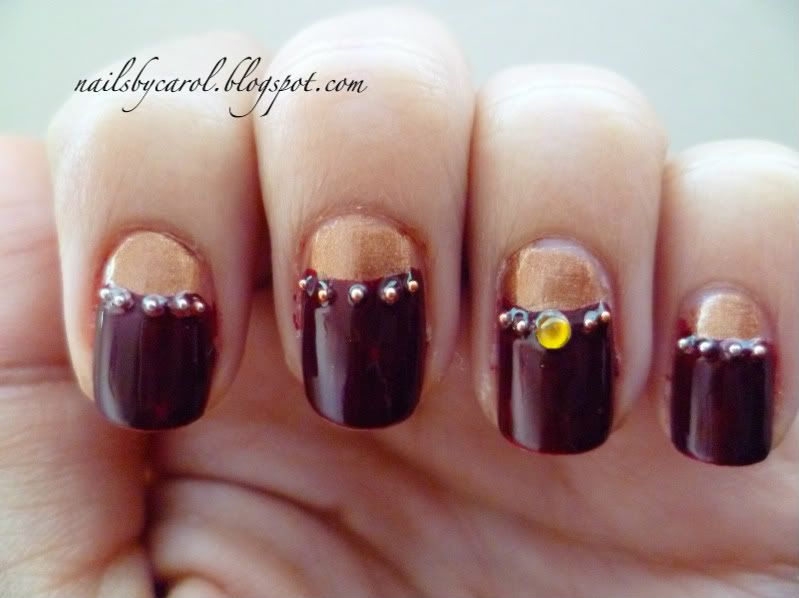 PS: I had to file down my nails once again because I had a door accident over the weekend.
Tuve que dejar mis uñas un poco más cortas porque tuve un accidente con una puerta.