MERRY CHRISTMAS!!!
FELIZ NAVIDAD!!!
I just want to wish you all a Merry Christmas! I hope your homes and hearts are blessed with joy and happiness. I wish you find peace in your hearts and that this day is spent with your loved ones.
I apologize for not having a recent nail post, but I had been busy with my family and today I did not have time but to only do a 5 minute manicure. Anyway, thank you so much for stopping by!

Únicamente quiero desearles una feliz navidad! Espero que sus hogares y corazones estén llenos de felicidad y armonía. Deseo que encuentren paz en sus corazones y que éste día sea muy especial en compañia de sus seres amados. Pido una disculpa por no haber tenido más diseños de uñas pero he estado ocupada con mi familia y hoy solamente pude hacerme un manicure de 5 minutos. De igual forma, Muchas gracias por visitar!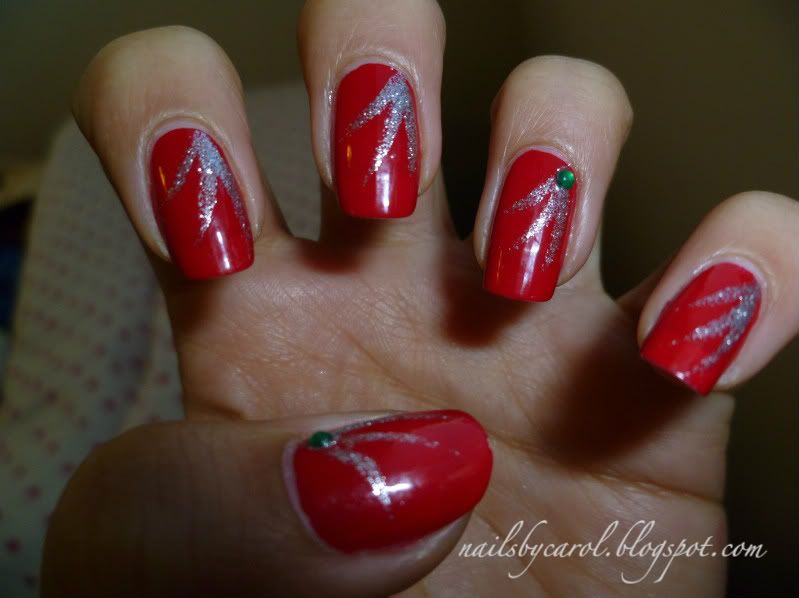 Sally Hansen Insta-Dri - Rapid Red
Kiss Nail Art - Silver Glitter
Green rhinestones
xoxo,
Carol